Yes it was a summery 84 degrees at my house and the nearby Belmont Park but the shadows are becoming longer and the planet is halfway into it's 23.5-degree wobble on its way to winter for the Northern Hemisphere.
Nobody is broke at my house yet and I was able to lay out some platters of premium cat food for the feral cats. And yeah, I laid out tuna and sardines in the stainless steel "Great Dane" feed dish. Tuxedo and Garfield are are with the fish. Ginger, the mother of both of the "fish cats" likes kibble and she's on the far right crunching some.
And yes, that's Nasty Mom top left and her former husband Sad Face just beneath her in this photo. When Nasty Mom had a uterus and ovaries and Sad Face had testicles they made every cat in this photo be born. And every cat in this photo is neutered.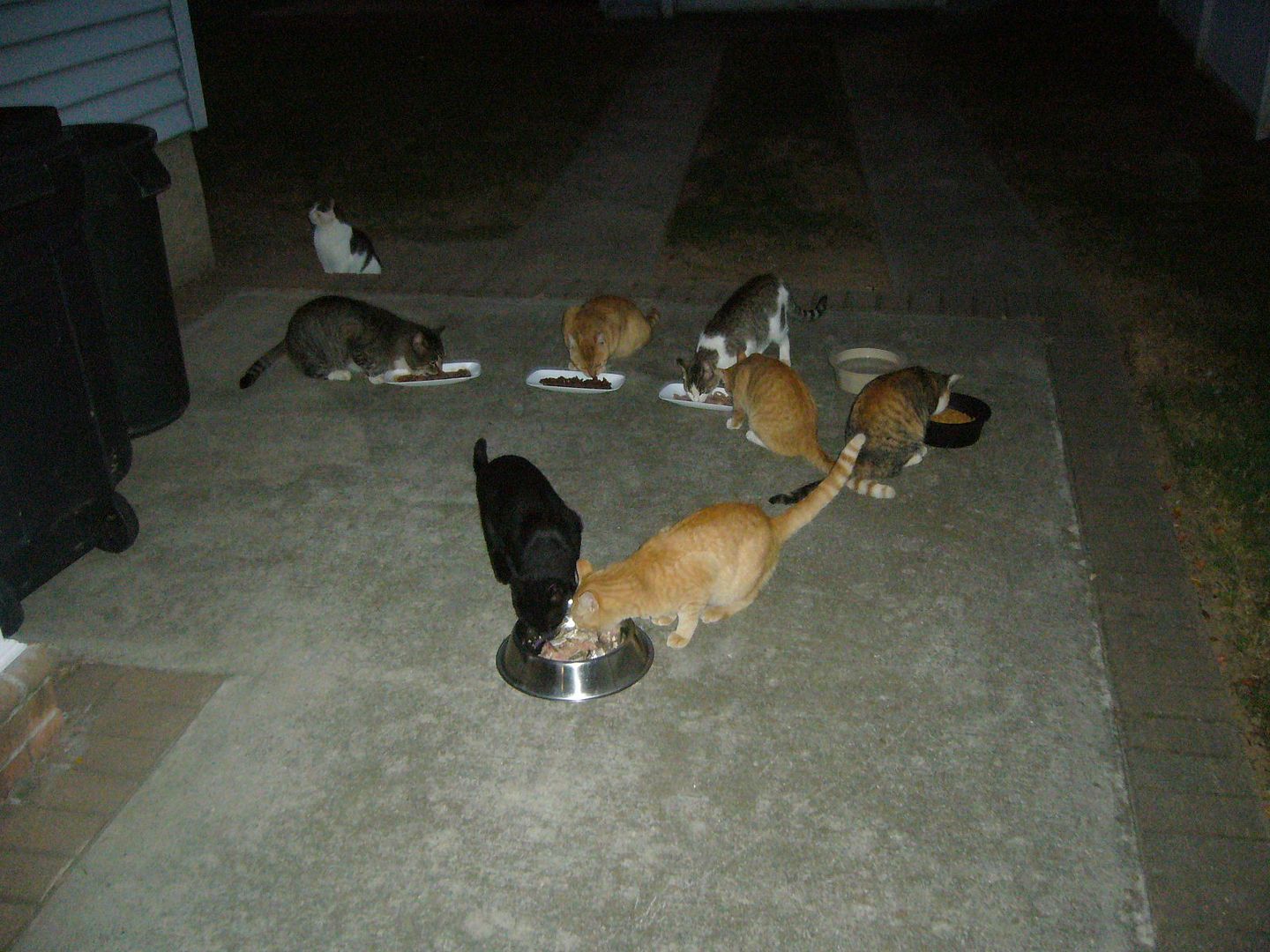 The huge tom Sad Face was always a gentle guy with me. He'd show up for food with wounds and leaking blood after a tough night in the street with girls and toms but he always let me pet him. After I got him trapped and neutered with great help from cattrappers.org he was held over by a volunteer DVM and no-pay volunteer assistants to be treated for wounds and an infected abscess. Word got back to me that this huge feral beast got out of his cat carrier and just let people work on him for first aid as gentle as can be before he was castrated. Nobody had ever seen a feral tom off the street this large that was so gentle with people. His male goodies got clipped so did his left ear to let the world know that he's sterile and vaccinated and cannot give rabies to anybody. He'd have been a good big slob house cat if taken off the street as a kitten - he's just a gentle beast with some love for me for a long time.